KBK has conducted business for over 70 years under our corporate philosophy, "Personnel, Technology and Confidence," which has been our basic policy since our foundation in 1947.
What this philosophy means is that we value "personnel" as a trading company's most important managerial resource and earn the "confidence" of clients and other stakeholders by providing the latest "technology" and products to match the needs of continually-developing industries in each era.
It also has many things in common with the ESG approach, which forms the key elements of sustainability.
Valuing "Personnel" coincides with the "S" in ESG (Social). It refers to continuously bringing about new innovations by eliminating all discrimination and prejudice, prioritizing harmonious relations, and developing and training people as an investment in human capital.
"Technology" coincides with the "E" in ESG (Environment). It refers to cutting-edge technologies needed to create a sustainable society in the future and new technology that can resolve a wide range of social issues including environmental problems.
"Confidence" coincides with the "G" in ESG (Governance). It is nothing other than our relationship of trust with clients and other stakeholders. This relationship is made possible by building a governance system with the aim of creating a sound corporate structure.
Under our corporate philosophy, "Personnel, Technology and Confidence,"we recognize addressing environmental and social challenges as one of our most important business issues, and will contribute to the realization of a sustainable society.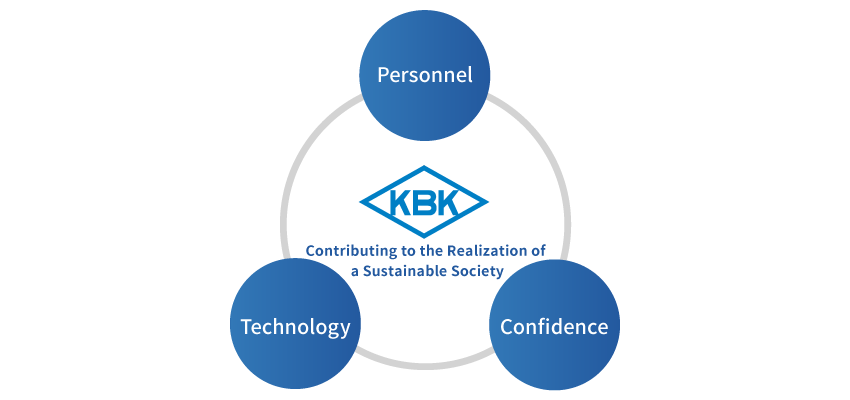 Basic Policy on Promotion of Sustainability
Sustainability through business activities
We will promote business activities considering the preservation of the global environment, human rights, and basic labor rights. Furthermore, we will seek clients' understanding on our sustainability efforts, with the aim of building a sustainable value chain.
Respect for human rights
We will respect the human rights of all individuals, including those who are socially vulnerable, regardless of gender, nationality, or other characteristic, and promote a rewarding workplace environment where diverse employees can work vibrantly.
Building mutual trust with society
We will make every effort to disclose information accurately and quickly, and strive to be a trusted company by listening to and fulfilling the expectations and needs of society through engaging in dialogue with stakeholders.
Training and developing human resources
We will foster awareness on sustainability among all employees by developing a personnel system and training programs that enable employees to reach their full potential.