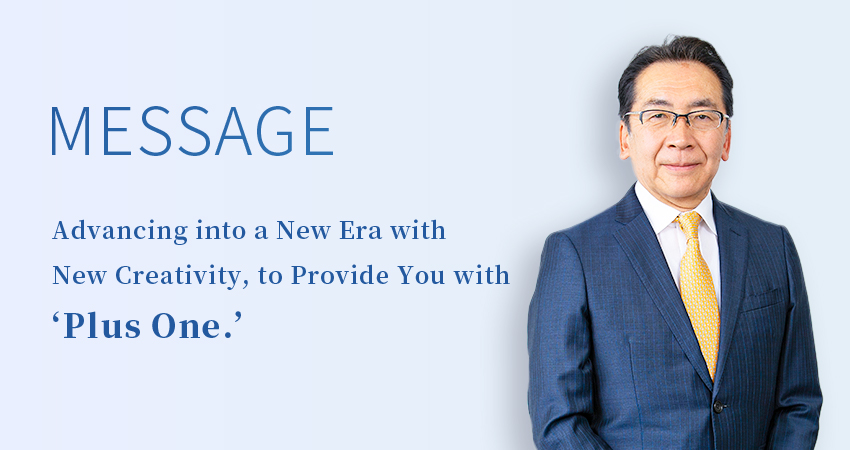 "Personnel, Technology and Confidence"
Ever since Kyokuto Boeki Kaisha (KBK) was founded in 1947, we have continued to provide the latest technologies and products to match the needs of continually-developing industries in each era. This DNA has been maintained from the time of our founding, despite the transformation of the social environment and the rapidly-changing modern world. We are engaged in contributing to society under our corporate philosophy, shown above.

Under this philosophy, we strived to achieve the goals of our medium-term management plan "KBK Breakthrough 2023," which launched in fiscal 2019, based on the policy of "bridging needs and seeds." However, KBK's consolidated financial results have been significantly affected by the global economic slowdown caused by the COVID-19 pandemic. In addition, the business environment surrounding us has undergone rapid changes due to a strong awareness of reform among industries, such as the setting of specific targets for carbon neutrality in various countries, productivity improvement through the use of digital transformation, and responses to environmental destruction.
Against this backdrop, last year we formulated a new medium-term management plan, "KBK Plus-One 2025," as a plan that will contribute to the medium- and long-term development of the Group. Now, in the plan's second year, the Group is working in unison to achieve its goals.
Under "KBK Plus-One 2025," the period from fiscal 2021 to fiscal 2023 is defined as a period of transformation, to respond quickly to large-scale changes in the business environment, and the period from fiscal 2024 to fiscal 2025 is defined as a period of development, to take advantage of this growth foundation.
There is, of course, no change to the underlying aim of responding to the expectations placed in us, by embedding in the heart of every KBK Group employee the will to contribute to society by providing not only technologies and products, but also solutions to the needs and issues faced by our customers, through added value built on our systems and expertise: in other words, by providing "+1 (plus one)."

We aim to be a company that provides even greater value to our shareholders, clients, and other stakeholders.

We look forward to your continued support.
CEO Yoshiya Okada